Your guide to tracking logging emails through HubSpot
In order to log and track emails in HubSpot, you need to connect your email to HubSpot. Click here for help setting up your email.
What is the difference between log and track?
The track feature allows you to receive real-time notifications when a contact opens your email. With the track feature, you can also see their activity within the activity log on HubSpot.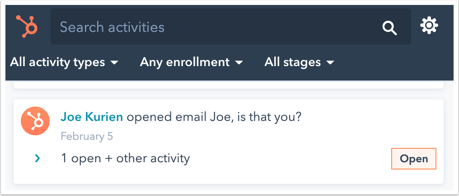 While the log feature will log the email into your HubSpot CRM. If the contact already exists in HubSpot the email will appear on their contact record, if they are not, HubSpot will create the contact record.

Spitfire Tip: Add the chrome extension for Google Workspace or the Office 365 extension to easily log and track right in your email tool.
How do I use log and track?
In Outlook, once you've added the extension, you can open the Sales Tool in your menu with the HubSpot Logo above. From here you can easily tick Log or Track on or off.
Spitfire Tip: On Outlook, if you want to be sure the email will be logged, make sure the HubSpot address has been added to your BCC.
In Gmail, once you've added the extension, you'll see the Log and Track appear at the top of your email. You can easily tick on and off from here. If you see that the Log feature is greyed out, this means that the email domain has been excluded from logging in the CRM.

When you click on Log you'll be able to choose where you want to log that email. You can choose between a contact/s, a company, or deals.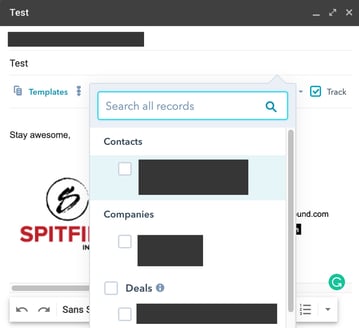 For more information please see this article.