Guide to adding reports
From the dahsboard section, click on Add Report. You can then select the type of report you want to add.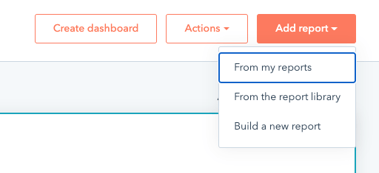 You can choose:
From my reports: Choose from any of the reports you have already built or added from the library.
From the report library: Choose from the 177 HubSpot pre-built reports.
Build a new report: Build a custom report from scratch.
To build a custom report, click on reports, and then reports again.

From here you can create a custom report by using the create custom report button in the upper right.
For more information see this article.